Using Word Walls in Remote
Mathematics Classrooms
by Cristian R. Solorza
Mathematics is full of specialized vocabulary and technical terms, and becoming familiar with mathematical language is an important part of learning in this subject. Word walls are valuable tools that teachers can use to support students' use of mathematical language as they express their thinking when speaking and writing. Word walls are particularly helpful for multilingual learners who are learning English. Students might refer to the spelling of new words to study spelling patterns, practice their pronunciation, and to copy words into their writing. Having visual reference tools readily available also helps to reduce the demands on students' active working memory, as they do not need to spend limited processing capacity searching for and retrieving vocabulary words. This frees up limited active working memory resources for mathematical problem solving. When organized thematically or by subject, word walls can help students understand how words are related conceptually to each other. For example, as illustrated in the image below, if we organized the words "denominator, fraction, and numerator" alphabetically, students will only see how they are organized alphabetically. But, if we organized the vocabulary conceptually, students will be able to see how they are understood in relationship to each other.

Word walls come in many forms and it's important to establish a purpose behind their use. What kind of word walls do you use in your classroom? Why do you use them? The most common types of word walls are:
Alphabetical words walls: Words are listed under letters A–Z according to the first letter of the word. These are used primarily in grades K–2 to help students learn their letters, develop phonemic awareness, identify beginning letter sounds, and to spell high-frequency words.
Thematic word walls, or visual concept maps: The words are not listed alphabetically but organized thematically or conceptually. Words and phrases are deliberately placed within a visual. For example, we can use a drawing of a flower to caption essential vocabulary. This vocabulary is now linked conceptually within a science unit on plants. In another example, from a high school science unit, a team developed the sketch below to contextualize all the important vocabulary needed for a state exam. They also used the question types and visuals/diagrams contained in the exam to help them design their visual concept map. You may also want to represent groups of vocabulary as part of a story across various pages. The article "Interactive Word Walls" by Jackson and Narvaez provides more information on organizing words interactively within visual graphic organizers.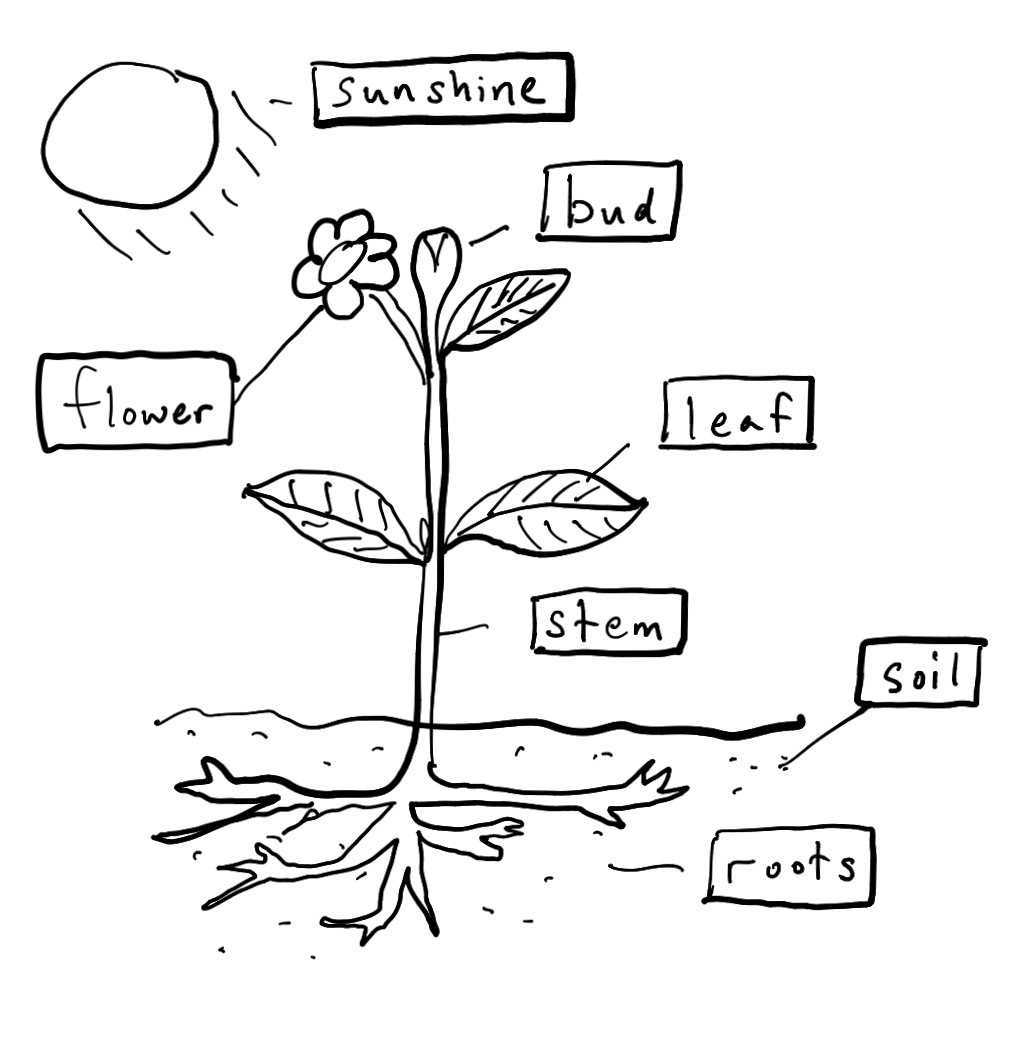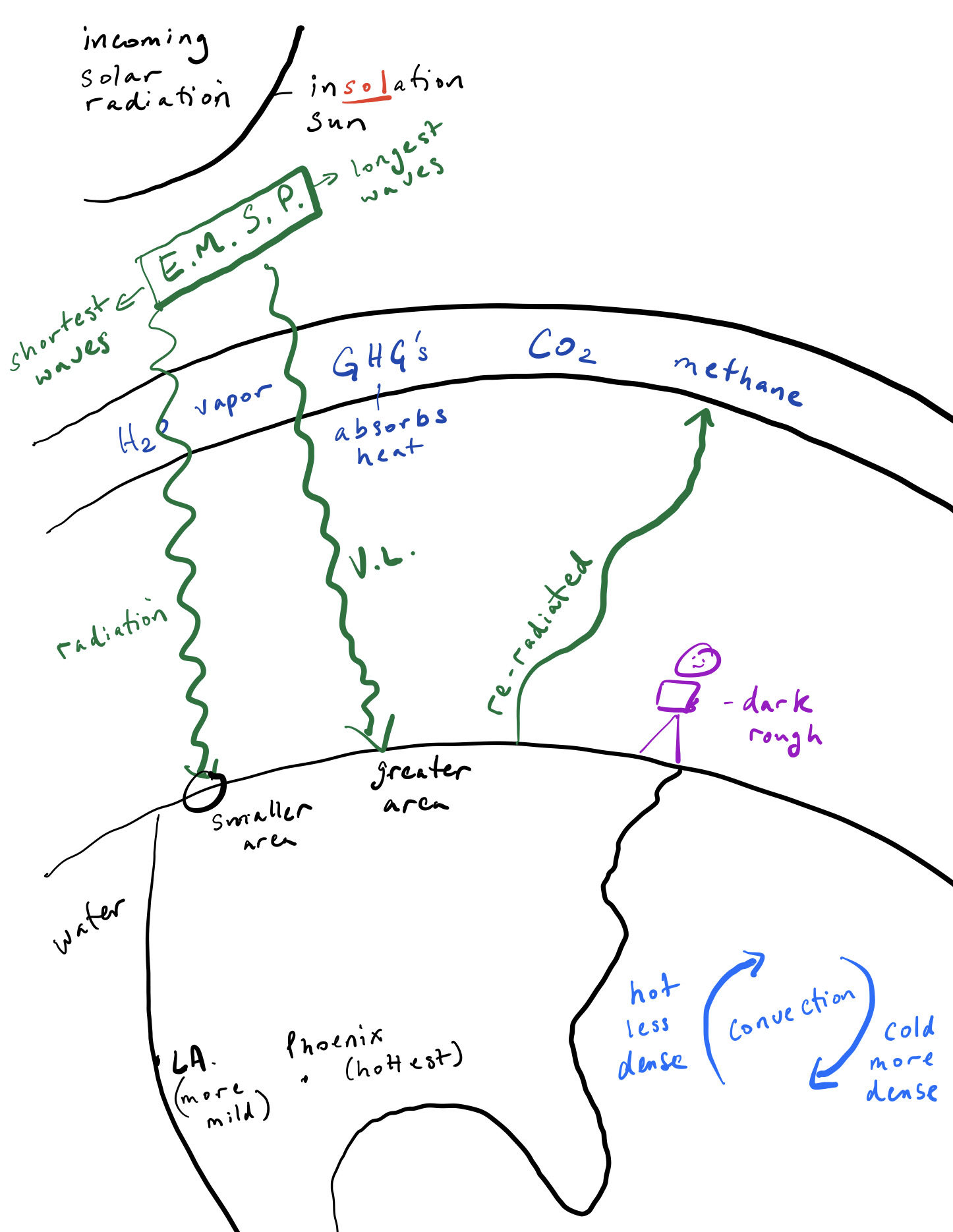 3. Semi-permanent/permanent textual displays: These include textual displays such as the daily schedule and classroom labels. The purpose behind these are multifunctional. Although an attendance chart or daily schedule is not a traditional word wall, these words are contextualized in a routine and help students learn about the flow of the day. The purpose behind classroom labels is to give ALL students access to the vocabulary for materials they may not have used before.
You may be asking: How do we apply these ideas in mathematics?
It comes down to planning and purpose. Do you want to help develop your students' phonemic awareness, develop a better understanding of a concept by highlighting key vocabulary, or both? K–2 teachers should have both alphabetical and thematic word walls. Thematic word walls are helpful at all grade levels.
If you'd like to develop your students' phonemic awareness of mathematical vocabulary, consider the following:
Create an alphabetic word wall. Each week, as you teach new letters, sounds, and words you and your students can analyze words, identify beginning sounds, and together decide under which letter to place them.
Send home a one-page printed word wall where students can add new words each day to practice writing. They can also add the words on a ring using index cards
If you'd like to develop a thematic word wall or concept map, consider the following steps:
Work as a team: Although you can do this alone, it's always better to create a thematic word wall or concept map with your grade team, your grade partner, and vertically across grade teams.
Gather ALL your vocabulary and phrases:  Analyze questions, diagrams, and visuals represented in the upcoming unit. Gather ALL the vocabulary and phrases students will need to be successful in the unit. Organize the vocabulary into groups. I like to write out all the vocabulary words on post-its so I can move them around as I explore the relationships among the vocabulary. What words fall into groups? How are they linked within an idea or concept? Do I need to include another word as a heading for the group?
Brainstorm and sketch a visual/concept map: Sketch a few visuals that link all the vocabulary and important phrases. Here is an example from a math unit linking concepts from a previous unit on arrays to the distributive and commutative properties.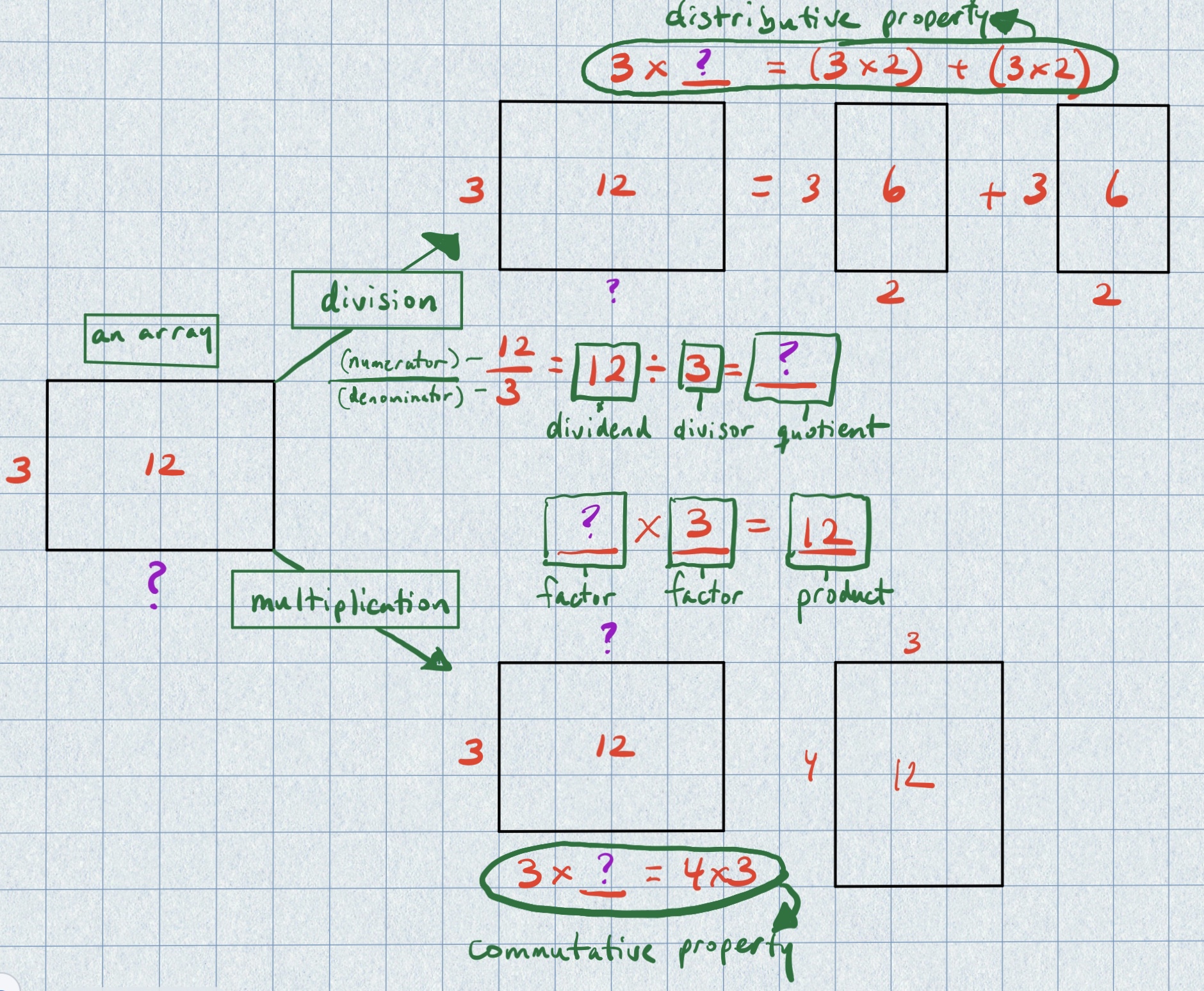 4. Build the concept map as the unit develops: Once you have a draft, build the concept map or visual with your students as they learn the concept. Don't lay it all out at once! Use drawing websites like psykopaint.com and abcya.com. Alternatively, provide small groups of students with a vocabulary list so they  can create their own visual. They can also find a picture or a group of pictures they can label using all the vocabulary.
Unless you're focusing exclusively on the spelling of words, please avoid creating alphabet word walls when developing new concepts. Words in visual relationships support conceptual understanding, not alphabet lists of key vocabulary.
How do we apply these ideas in remote mathematics classrooms?
The active display spaces in virtual meeting platforms (such as Zoom) and in online classroom management systems (such as Google Classroom), are very limited compared to brick-and-mortar classrooms. This requires rethinking how we use and display visual reference tools,  to support students in their learning and use of mathematical vocabulary, and to avoid unnecessary demands on their active working memory. Below we outline a few suggestions for using word walls in online mathematics classrooms.
Be intentional and explicit about your expectations for how and when you want students to use a word wall (e.g., to support writing, to review previously learned content, to scaffold an assignment).
When on camera, display a word wall as your virtual background or use a split screen app such as the Dualless Extension for Chrome to show it next to your slide deck.
Send letters and vocabulary PDFs home so students and families can create word walls too. As you introduce new mathematics vocabulary, send home a list of words that students can cut out and place on their own word wall. Ask students to display their word wall in a visible location near their workstation.
Provide a consistent and easily accessible virtual location to store word walls (e.g., in Google Classroom or other learning platform like Jamboard and Padlet) that are used by students and teachers during instruction.
Make sure color, fonts, and backgrounds chosen for virtual displays are readable. Avoid busy patterns, small fonts, and make sure that there is a high contrast between background and font colors.
Ask students to preview a thematic word wall prior to a live online lesson to help activate their thinking.
Archive words walls once the class moves onto a new unit in which the old word wall is not as relevant anymore. Keep displays current and reduce visual clutter, to allow students to focus on what is relevant. There could be a dedicated space in Google Classroom for archived word walls that is different from the space dedicated to current word walls. Another idea is to move archived word walls into a word wall book (or virtual equivalent) that students keep for the school year.
Word walls with a purpose that are used during math lessons provide an important and much needed support for all students, and particularly those who are learning English. Thinking about the purpose of the word wall will help you find ways for adapting its use for remote learning. I hope you enjoy making and building word walls with your students no matter how learning takes place!
Recommended Reading
Jackson, J. & Narvaez, R. (September, 2013). Interactive Word Walls. Science and Children, 42–49.
Math for All is a professional development program that brings general and special education teachers together to enhance their skills in
planning and adapting mathematics lessons to ensure that all students achieve high-quality learning outcomes in mathematics.
Our Newsletter Provides Ideas for Making High-Quality Mathematics Instruction Accessible to All Students