Encouraging Student Self-Advocacy in the Mathematics Classroom
By Babette Moeller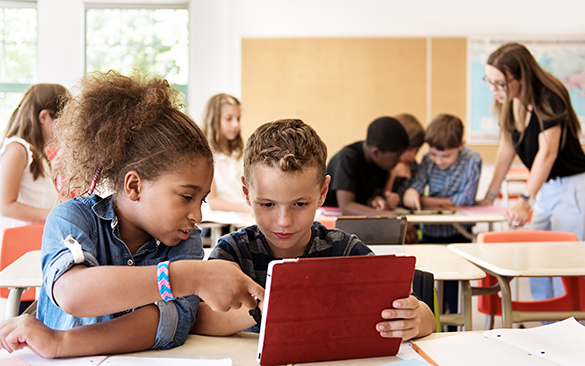 Maria is a second-grader who has a lot going for her at school. She is a strong reader and well-liked by her peers. However, sometimes she struggles in math. Long directions and multi-step problems can be challenging; it's difficult for her to hold on to multiple pieces of information in working memory. Maria is aware of these challenges, as her teacher and parents have had conversations with her about them. From these conversations, she also knows that she has several strengths in math. She has a strong number sense and a good grasp of spatial relationships, which help her to be successful when working on problems involving shapes. Even though she knows that she is a good math student, she is aware that there are also certain areas in math where she might need extra help and that she needs to work on them to make improvements. Maria also knows and uses a number of strategies that help her, such as asking a peer for help, organizing her anchor charts needed for a task, and highlighting and checking off items on direction checklists. Her teacher is encouraging her and her fellow students to use strategies that work for them and to ask questions if they need help. When she encounters a problem, such as getting stuck when working on a multi-step task, she knows how to ask a peer for help, or to ask the teacher for written directions to refresh her memory about the steps she needs to follow. Knowing about her challenges with active working memory has given Maria insight not only into adaptive strategies that help her, but also into how she can improve her math work. She is working on her visualization skills by playing games that use visual memory in order to help increase her working memory capacity.
Maria is a student who has learned how to self-advocate. Self-advocacy is the ability for students to communicate their learning needs. It is a complex ability that draws on multiple skills and understandings. In order for students to be able to become strong self-advocates, they need to understand their strengths, interests, and challenges as learners, know and utilize the supports that might help them, and they also need to be able to communicate their needs to others. Being able to self-advocate is a very valuable skill for students to have. Students who know how to self-advocate can engage in more self-directed work, ask for support when things get hard, and understand the areas that they need to work on to strengthen their weaknesses, all of which improve learning. Self-advocacy also helps to build confidence and positive attitudes about learning and allows students to be more independent in addressing their challenges. Being able to clearly delineate their area of challenge and to self-advocate for support makes learning manageable and prevents students from drawing global conclusions about their performance, such as "I am just not good at math." Student self-advocacy also benefits their teachers. The questions that students ask, the help they need, the choices they make are all important sources of information that can help teachers to fine-tune their instruction.
Self-advocacy must be taught and encouraged. It benefits all students, but is particularly important for students who have been historically marginalized because of their cultural or language background, or because of a disability. And self-advocacy takes on particular importance as we try to address unfinished learning due to the COVID-19 pandemic. Everyone can learn to self-advocate, but it takes time and practice and a supportive learning environment that encourages and empowers students to speak up for themselves. Here are some strategies that teachers can use to help students develop this important ability in the mathematics classroom—and beyond.
1. Create a classroom environment that helps students feel safe, encouraged, and empowered to advocate for themselves.
2. Help students to better understand their strengths and challenges as learners of mathematics.
3. Help students to identify what supports are helpful to them.
4. Help students to communicate about what they need.
What strategies have you used to encourage student self-advocacy in the mathematics classroom? Perhaps you can use an upcoming grade-level or faculty meeting to discuss student self-advocacy, exchange ideas for nurturing this skill in your students, and explore how your school community can promote a culture that values, encourages, and empowers student self-advocacy.
Math for All is a professional development program that brings general and special education teachers together to enhance their skills in
planning and adapting mathematics lessons to ensure that all students achieve high-quality learning outcomes in mathematics.
Our Newsletter Provides Ideas for Making High-Quality Mathematics Instruction Accessible to All Students